Have you been thinking there must be more to life but you don't know what?
Do you have a dream buried somewhere in your heart but you are scared to pursue it?
Are you looking for inspiration to bust a move?
INSPIRATION FOR EVERYONE FROM EVERYONE!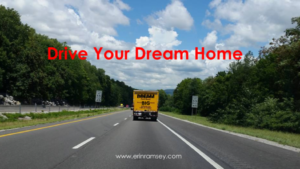 If you answered yes to any of these questions the Drive Your Dream Home video series may help you to start living bigger and bolder.
One was the adventure she took with her husband who is pursuing a dream he has carried in his heart for well over 15 years.  You can watch some of the videos on Erin's YouTube Channel:
https://www.youtube.com/channel/UCystOhljEHAG2wFZ9RzBE7Q
You can access the Living Inspired Tools in Erin's book and workbook Be Amazing: Tools for Living Inspired (you can order on Amazon https://www.amazon.com/Be-Amazing-Tools-Living-Inspired or from Erin's website http://erinramsey.com/shop/ )
Erin was moved by how many people are suffering, who are lonely and she was inspired by so many people wanting to embark on a new exciting journey.
These videos are for everyone who wants to pursue a dream.
Sign up for a drive  by emailing Erin at erin@erinramsey.com